Charles Hagenah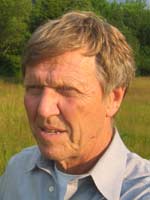 Charles Hagenah graduated from Colgate University , Hamiton, N.Y. where he majored in Mathematics receiving a BA in 1959. Attending Yale University , graduate program at School of Art and Architecture from 1960 - 1963, he received a Master of Architecture Degree. Additional honors included the William Wirt Winchester Traveling Fellowship, and a Fulbright Scholarship to study in Italy with an affiliation at the University of Rome. Brief experience included employment in the firms of Paul Rudolph Architect and Roche and Dinkeloo, Architects in Connecticut. Traveling with study grants during those following years primarily included Italy as well as the European countries, Scandinavia, Russia, Greece, and Egypt.
Returning to the United states in 1964, his professional career continued as a principal designer and architect, at Desmond and Lord Architects working on airport Terminals, public Libraries, housing and other projects.
In 1971 he formed Amsler and Hagenah Architects; in 1972 - 1990, Amsler Hagenah MacLean Architects. as partner and director. These firms completed many award winning projects with a concentration on Historic Preservation projects, Institutional buildings, small airport terminals and related functions, signing and information systems, public libraries, residential work and feasibility studies of all types. Numerous design awards were received; the first was an award in Historic Preservation for the expansion and renovation of the Baltimore City Hall in Maryland and the last in 1990, an New England Amercian Institute of Architects (AIA) design award for Salter Building, a retail/mixed use project in Lexington MA.
In 1976, Mr. Hagenah received a grant for Independent Design Study from the National Endowment for the Arts to explore film animation using photography, drawings and watercolor images.
In 1990 he formed Charles Hagenah Architects. A variety of projects during this period included residential work, corporate offices, historic preservation of the Colgate Inn, facade improvements in Vienna, prototype proposals for supermarkets in Sardinia, the expansion of Boston Red Sox's Fenway Park on it's present site for preservation and ommunity groups.
Also in 1990 Mr. Hagenah began teaching design studios at Roger Williams University , School of Architecture Art and Historic Preservation as an Adjunct Faculty member. In 2000 he became an Associate Professor where he continues to teach Core courses, Advanced Design Studios, with special courses in Site and the Environment, Construction Materials, and Sustainable Design.
Design Competitions:
During his professional Career design competitions have always been an active pursuit and challenge. They include:
Energy Efficient Home, Boston. MA
Copley Square Competition, Boston, MA
Center Civic Plaza, Chandler, AZ; Honorable Mention
Arizona Historical Society Museum, Phoenix, AZ
Samuel P. Harn Museum of Art, Gainesville, FL
Flagler Drive Waterfront Design competition, west Palm Beach, FL
Times Square, New York, NY, Municipal Arts Society of NY and National Endowment for the arts,
The Charles / MGH MBTA Station, competition of Ideas; First Prize; ( 1 of 5)
Sunwall Competition, DOE and AIA Washington, Washington DC; Second prize
Environment:
Continued road cycling and river kayaking throughout NE, with environmental interests on the Allegash River in Maine, white water rafting in West Virginia and Colorado, hiking the White Mountains in NH, has expanded to mountaineering in the Andes Mountains of Bolivia, and glacier exploring and rock climbing in the northern Cascade range in the state of Washington.
Other interests:
These include a long term commitment to oil and watercolor painting.